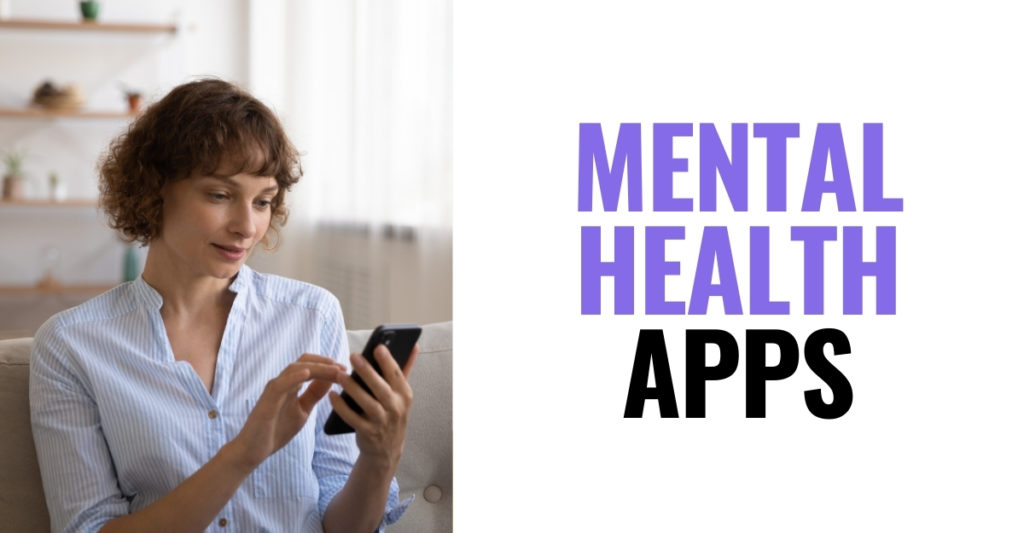 After covering our favorite mental health podcasts to subscribe to this year, it got me thinking about other affordable resources out there for mental health. It's becoming more apparent that having access to mental health resources is critical to the well-being of our society. Unfortunately, therapy isn't always a viable option. Podcasts are great too, but sometimes you need a personal touch. Enter mental health apps: A tool in your pocket that you can easily whip out in times of high stress.
What I love most about mental health apps is that you're not just learning and getting inspired about how to better take care of your mental health (like podcasts do). You're also encouraged to put these lessons into action (like therapy does).
So without further ado, here are the best free and affordable mental health apps to download in 2021.
1. Calm | Free, $14.99/month, $69.99/year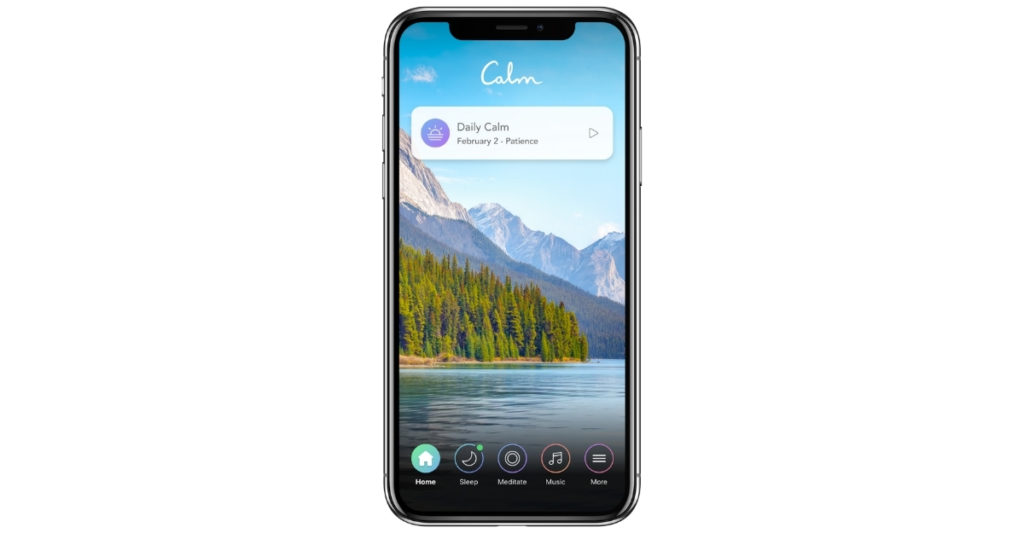 The app Calm describes itself as a mindfulness meditation app for both seasoned meditators and newbies alike.
They've built their success around proven methods to help calm the mind since their team is made up of literal meditation gurus, like Tamara Levitt, head of Calm. For the past 30 years, Levitt's studied meditative practices under world-class meditation leaders such as Geshe Kelsang Gyatso, Thich Nhat Hanh, Lama Catherine Rathbun, and so many more. Now that's a resume I can trust.
What I love about Calm is that they have hundreds of exercises that go far beyond the typical sit-down-and-be-still type of meditation. You can choose from calming exercises, breathing techniques, and masterclasses. They even have a celebrity library, such as their iconic Sleep Stories narrated by celebrities like Matthew McConaughey, Harry Styles, Lucy Liu, and LeBron James.
I know, I was thinking the same thing: How can I possibly go to sleep listening to LeBron James/insert favorite celebrity here? But hear me out: These celebrities talk so smoothly, so softly, and so calmly that eventually (after the giddiness dies down) you won't realize who you're listening to and you'll fall right into a blissful sleep. It might make you sleep better and wake up happier.
Overall, the biggest pro about Calm is that it's a thoughtfully designed and multi-offering platform, which makes it easy for you to find features that best suit your own mental health journey. The con? The free version is a bit limited, so if you're looking for something simple but highly trusted, the free version may just fit your lifestyle.
2. Mindshift CBT | Free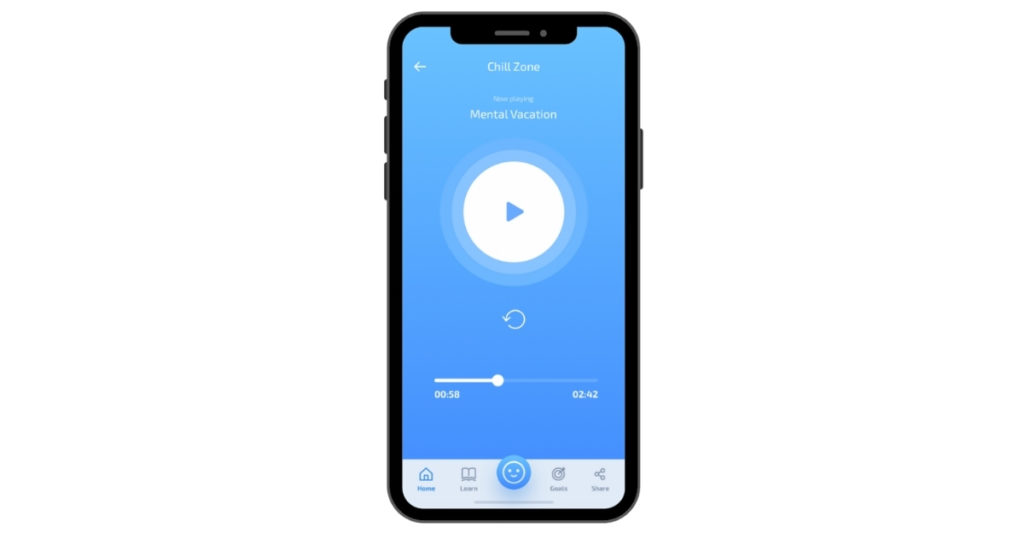 I'm partial to Mindshift because they use scientific-based strategies based on Cognitive Behavioural Therapy (CBT), which is a method I used during therapy for anxiety. And that's exactly what Mindshift is for: Helping their users cope with anxiety by using their features that teach you how to change the way you think about and react to situations.
When you open the app, you're taken to a page where you can rate your anxiety for the day on a scale from 0 to 10, with 10 being extreme anxiety. Then, you can select the symptoms you're experiencing and jot down any other notes you have. They log this information so you can compare all your entries along your journey of using the app. This seemingly simple feature is what I believe makes the app incredibly useful and powerful.
When I was in therapy, the therapists encouraged our therapy group to do everything this app incorporates — jotting down our anxiety levels, symptoms, and other thoughts. We did this to get our thoughts out of our head (where thoughts have the potential to spiral) and onto paper. That exercise allowed us to become familiar with our triggers and learn to work on helpful coping mechanisms. It's also easy to think you're not making any progress during the complicated journey of mental health, so I appreciate the chart they implemented that challenges that idea.
They have other features on their app like solutions to common anxiety-inducing situations, suggestions for coping mechanisms, a journal, and more that are guided by CBT.
Overall, I highly recommend this app if you deal with anxiety. There are so many awesome features on the app and it's all for free, which is rare to come by.
3. What's Up | Free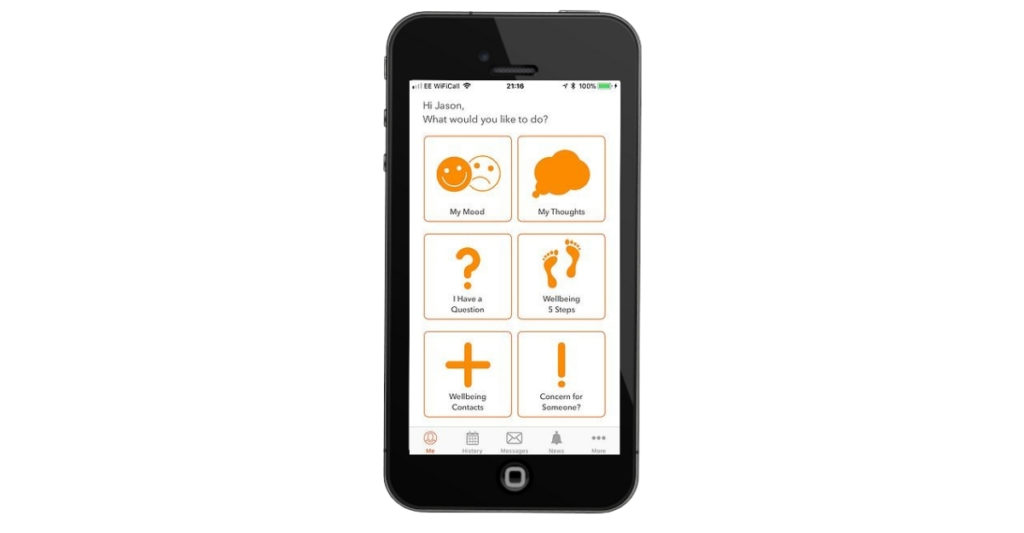 What's Up (not to be confused with WhatsApp) also uses CBT plus Acceptance Commitment Therapy (ACT) to help manage depression, anxiety, stress, and other common mental health-related issues.
I think the best feature on this app by far is the coping mechanism feature. This was something I spent a lot of time working on in therapy. When you're triggered or having a hard time dealing with a situation, you can whip out this app and they'll guide you through it. The goal? To teach you how to replace old, more harmful coping mechanisms with beneficial ones. This is a skill that you'll use for life — take it from someone who's worked on their mental health for the past eight years.
There are other super helpful tools on the app such as journal entries, a feature they call the Catastrophe Scale, and so many others. I even like how they let you choose a theme color for the app. It may seem trivial at first, but it's a simple gesture of respect for making this as comfortable of an experience as possible.
You can tell immediately that the creators put a lot of time and effort to create an app that's truly there to help. If you're dealing with any type of mental health issue and need to learn how to break out of the cycle of turning towards nonproductive coping mechanisms, this is your app.
4. Headspace | Free, $12.99/month, $69.99/year, $9.99/year for students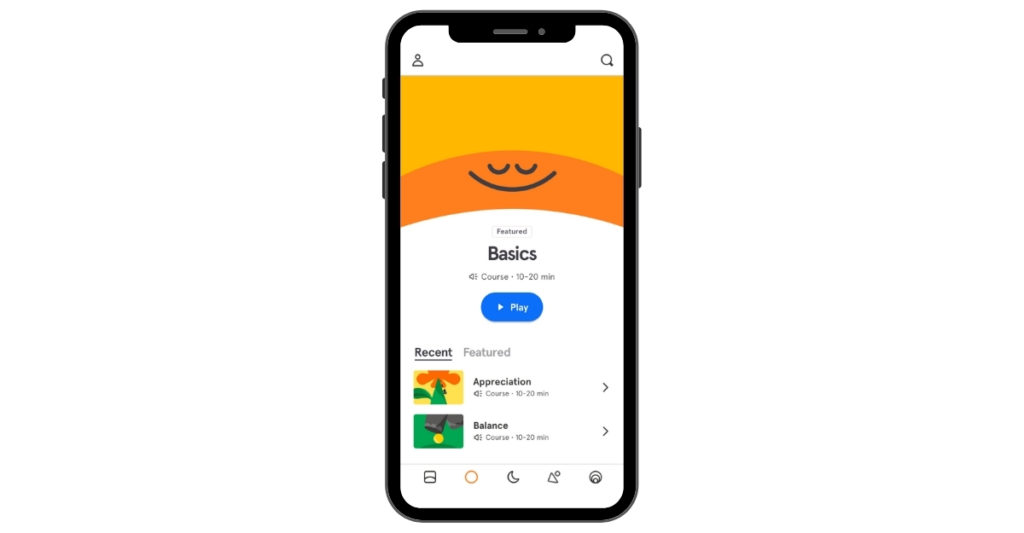 You've probably heard about Headspace from Spotify, YouTube ads, or in your Netflix suggestions. It's the most popular mental health app on the market right now, and for good reason. Headspace is a mindfulness app that most do guided meditations inspired by Eastern Buddhist tradition.
Plus, like Calm, they have an impressive resume. Andy Puddicombe, co-founder of Headspace, trained in meditation for over 10 years all around the globe. So you can be sure that they use tried and tested methods.
They have four categories you can work on: Meditate, Sleep, Move, and Focus. I used this app almost every day when I first entered the working world because I wanted to learn more about meditation and how to ground myself during this scary and significant era of my life. But every meditation I tried before this seemed too… woo-woo. And so long. I needed a simple, no-nonsense meditation. Headspace ended up being perfect since their goal is to make meditation simple and accessible. In fact, they even challenge you to "find out what mindfulness can do for you in just three minutes a day."
While all the content on their website is free, their app only has a free trial option. After that, you have to subscribe, making Headspace one of the most expensive apps on this list. But if you're able to afford it and mental health is a priority for you, Headspace can be an awesome resource. (Oh, and they have adorable animations! So worth it.)
By the way, meditations are so much more effective with headphones on. If you're looking for some quality headphones to enhance your meditation moments, here is our suggestion.
5. Youper | Free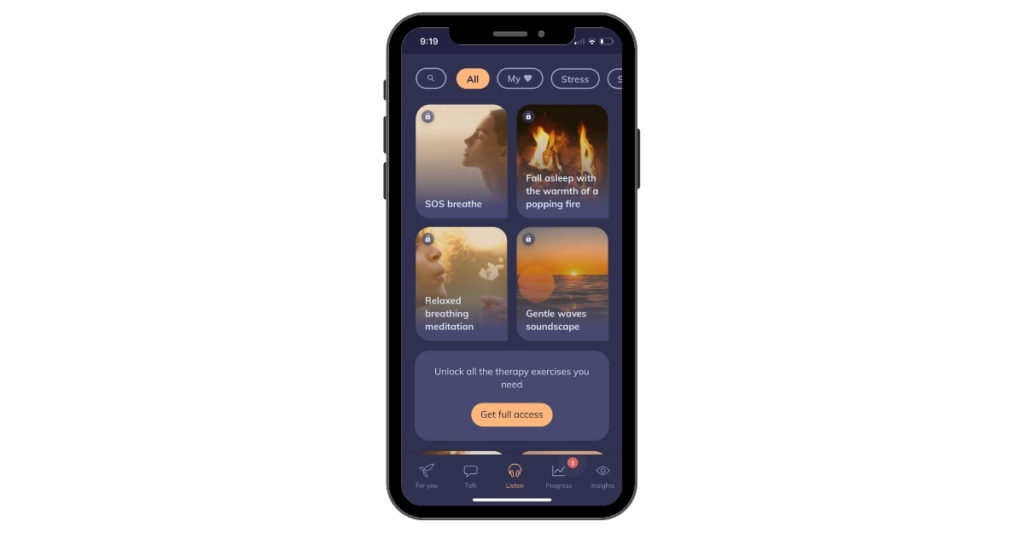 It is one of the more quirky apps on this list since one of its features uses AI in combination with tools, information, and techniques to teach you how to better your mental health. Youper actually calls themselves a "pocket AI therapist."
This app is great for anyone just starting to take a dive into mental health, wanting to learn what it would be like working with a therapist, what coping mechanisms are, and just anything you need to know to get you started on your journey.
I was hesitant about adding Youper to the list at first since it seemed like such a simple app. How could a little chatbot help someone cope with their mental health issues? Turns out, a lot. According to a Youper survey, 80% of a sample size of one million people felt a reduction in "negative moods" after only one conversation. That is amazing!
When you use Youper you can expect to chat with a therapist-like bot that can help you get to the root of the issue you're facing, what's contributing to it, how to reframe your thoughts, and what coping mechanisms you can use. These are all vital steps in learning how to deal with mental health disorders and so that's why I advocate for this app.
6. Waking Up with Sam Harris | $14.99/month, $99.99/year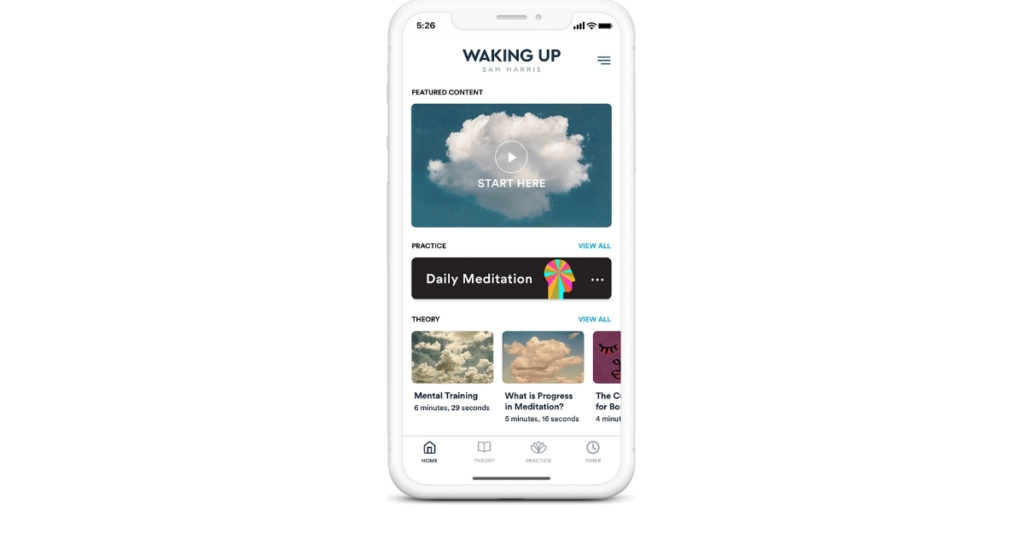 The meditations on Waking Up with Sam Harris were some of the first guided meditations I used that I actually enjoyed (along with Headspace meditations). Sam Harris — neurologist, author, and philosopher — makes meditation simple. For example, in many of his meditations, he starts out by giving you techniques on how to achieve a meditative state and then lets you practice them for the rest of the time.
He's also always reassuring his listeners that meditation takes time to practice, just like any other skill. He makes it a point to remind you to not feel frustrated or upset if you don't reach nirvana. Meditation is supposed to be a gentle journey about learning how to ground yourself and to be in the present. For any perfectionists out there (like myself), this is a great reminder that this isn't about becoming a guru — it's an ongoing process that only results in incredible, lifelong benefits.
Sam Harris also approaches meditation and mental health in general from a scientific perspective, so you can find conversations with other philosophers and scientists as well as lessons on his app that explore the theory of meditation, death, skepticism, mindfulness, awareness, and many other profound topics.
This app is the most expensive one on this list, but it's worth it for anyone who appreciates exploring not only the power of meditation but also the more difficult and philosophical topics of life.
Final thoughts
That wraps up my list of the six best free and affordable mental health apps you should download in 2021. I'm a firm believer in the idea that mental health care isn't just for people with a diagnosis — it's for everyone. No matter if you're going through a rough spot in your life or it's pretty easily sailing, the tools, techniques, and coping mechanisms you can learn from these apps are so important.
Now I'd love to hear from all of you! Do you have any other mental health apps you want to add? Or have you used any of these apps and found them helpful? Drop all your thoughts in the comments below.
Disclaimer: All product prices listed are accurate at the time of writing and are subject to change.