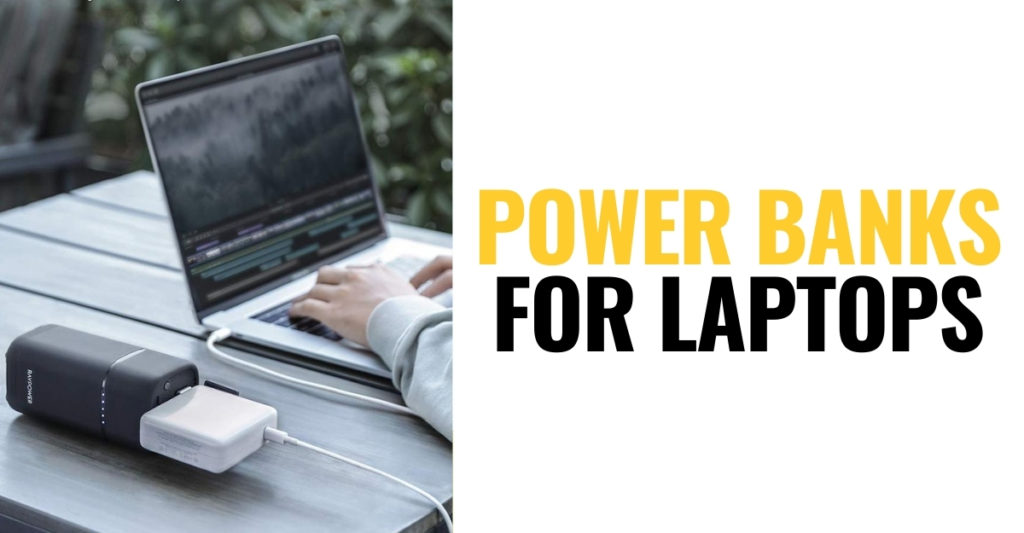 Computers are limitless. Unfortunately, we can't say the same for their batteries.
If you're a student or office worker who often travels, or spends long periods of time outdoors, then you may know the on-the-go frustrations of having to work with a laptop on a dwindling battery, and without an outlet in sight.
And while the market has no shortage of portable chargers for phones and tablets, many of these chargers do not accommodate power-hungry laptops.
Thankfully, there's a workaround; consider some of the following power banks that are specifically designed with laptops in mind!
You've got places to be—and so does your laptop. Why not travel with power?
The RAVPower 80W Portable Charger lets you travel lightly without sacrificing too much power. The charger may be small, but its battery still throws a mighty fat punch, able to keep MacBooks and iPads awake as you buzzle through a day's work on the go.
The RAVPower is also one of the slimmest portable laptop chargers, so it's easy to pack and carry. If you find yourself spontaneously traveling with your electronics, then you may want to have one of these power banks as a travel buddy.
I know, I know—I keep RAV-ing about RAVPower. But in all fairness, they've got one of the most solid reputations for reliability, so why not?
Take a look at the RAVPower 90W USB C Power Bank—a reliable, durable brick with enough power to last an entire week. Moreover, if you're worried about compatibility, then it'll comfort you to know that the RAVPower 90W works with a wide range of devices; noted are the MacBook Pro, iPad Pro, Dell XPS, HP Spectre, and more.
Overall, the RAVPower 90W is loaded with power, and it's compatible with multiple laptops. If you're chilling with your buddies who all have different devices, then this power bank may just make you the MVP.
One of the bigger fish on this list (Powkey pun intended), and a true monster when it comes to power. Meet the Powkey Portable Power Station.
Ever step into a café and blurt out the S-word because all outlets are taken? Well, the Powkey solves that problem, giving you not one, but two AC ports. And who knows—since you have spare outlets, maybe someone in need wants to sit with you; a new friend? A potential romance? (Wink wink.) Sit back, mingle, and sip the latte while the Powkey gives you power!
And thanks to a whopping 42,000mAh battery capacity, expect the Powkey to go beyond charging laptops—toasters, lamps, fans, and even TVs are all within this charger's dominion.
Put the RAVPower on steroids and it'd probably evolve into the MAXOAK Laptop Power Bank.
The MAXOAK is the most power-assertive charger on our list. Rest easy knowing that this fatty charges laptops a couple of times over (for phones, expect up to an impressive 16 charges)! Seriously, take this bad boy home and power outages become a laughing matter.
What's more is that the MAXOAK works with lots of devices. Among this power bank's compatibility range are laptops from HP, Samsung, Dell, Lenovo, and Chromebooks. Bummer that it isn't allowed on flights (it's just too strong), but hey—you've got tons of power!
You've got a MacBook Pro. I've got a drone. We're both covered under the Omni 20+ Power Bank!
Because the Omni 20+ has tons of ports, and because it's compatible with a variety of devices, it'll accommodate just about anyone doing anything—a photographer snapping landscape with a high-powered Canon, a student taking notes on the latest Surface Pro, or an office worker jotting on a MacBook. Or just someone with a drone; that's cool too.
The Omni 20+ is also nice and compact, in spite of its hefty power supply. So, if you fancy a road trip, this'll tag along without straining your luggage!
In Conclusion, TLDR
Well, have a look at that. Turns out being on the go with power-demanding laptops doesn't have to be frustrating after all, thanks to power banks designed to meet strict power requirements.
Sure, a large chunk of the portable power market focuses primarily on phones, but that doesn't mean laptops are out of the game; far from it, considering the ever-improving power bricks at your disposal.
So, go ahead—have a chat with your laptop about its power requirements, and choose a power bank that's sure to keep both of you happy!