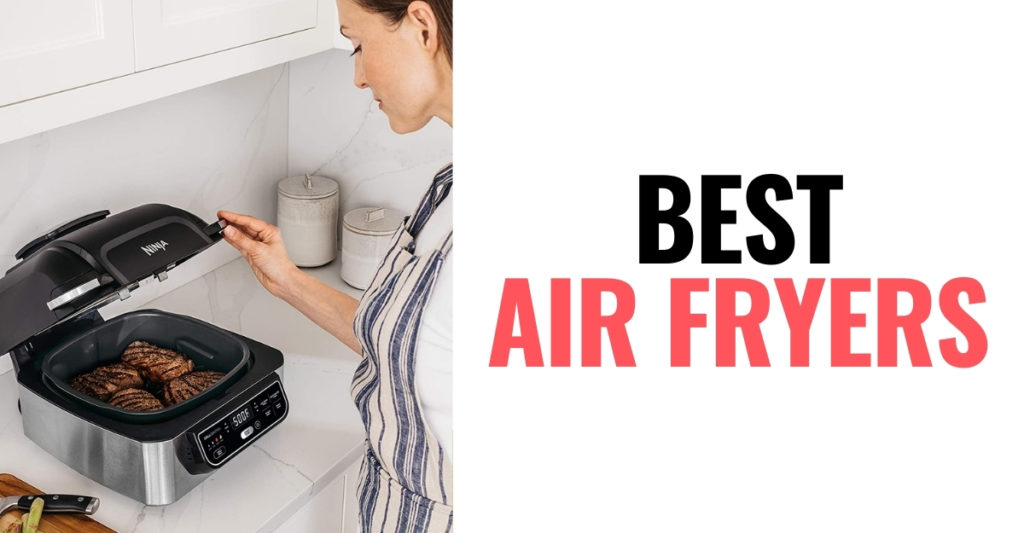 It's a grill! It's an oven! It's…both?
Many regard air fryers as miracle ovens, able to produce even the juiciest of meals on a whim—not to mention being a healthy, oil-free alternative to the deep-fried munchies. But are these really miracle ovens we're talking about?
Well, if your idea of miracle oven is a nifty device that's quick and easy to use (even if you're a newbie with food prep), something that pleases taste buds with less calories and fat, or an oven that allows for a variety of cooking methods, then there are indeed miracles to be found here!
Interested in reaping the tasty benefits? Then have a whiff at some of the best air fryers for your money's—and tummy's—worth.
It's date night at your place, featuring you, your special someone, Netflix, and a table for two—but you can't cook, can you? Thankfully, the Ultrean Air Fryer does all the work while you and your partner binge a show!
Sure, the Ultrean Air Fryer is super tiny and won't feed crowds, but hey—if it's just you and your sweetheart, you'll still have more food than stomach room, so no worries!
Overall, I've got full faith in the Ultrean Air Fryer prepping a romantic dinner that'll spice up those Netflix evenings for you and your partner.
The table for two won't cut it, eh? Looking for something bigger that'll feed you and your buddies on Super Bowl Sunday? Then consider the Chefman Multifunctional Digital Air Fryer.
The first thing you'll notice about the Chefman is how massive it is—yes, it's downright FAT. But this isn't a bad thing; in fact, it's only good news: more food. Tons of food. Seconds, anyone? How about thirds or fourths?
Go ahead—open a cold one with the bois, a seltzer for Steve (freakin' Steve and his "diet"), turn on the game, and watch the touchdowns drop while the Chefman whips up crispy wings for the entire crew!
Want to please someone with a dazzling meal, but don't know the slightest thing about cooking? (Yeah, me too.) Look no further than the Ninja Foodi AG301 Air Fryer, which is excellent for beginners!
I'll be honest: this air fryer has so many buttons that it's a little intimidating at first. Yet, the Ninja Foodi is surprisingly one of the easiest air fryers to use. It just feels so friendly and high-tech, almost as if asking you to hand it a patty, push a button, and take a seat. Burger prep is that simple!
Overall, the Ninja Foodi makes an amateur like myself feel like a professional cook. I've got the teriyaki salmon—which even Gordon Ramsey can't label as raw—to prove it; all it takes is a finger for button-pushing!
It's not big enough to feel like overkill, but it's also not small enough to feel inadequate. The NuWave Brio 6-Quart Air Fryer is a great route if you've got several mouths to feed, but not a lot of dough to spend. It's well-priced for the space it has.
And sure, air fryers are supposed to be a healthy route, but if you just have to follow your sweet tooth, then good news: the NuWave is a good-sized air fryer for baking cakes, muffins, and cupcakes. Go on—indulge!
In the end, you may not be a professional cook or baker, but that's totally fine; the NuWave will be one for you. All you've got to do is give it a lovely home.
You want simplicity. You want guidance. Meet one of the highest-rated air fryers on the market: the COSORI Air Fryer Max XL. Sounds pretty fancy.
"What do you mean 'guidance?'" You ask. Well, the COSORI basically carries you throughout the entire cooking process. Say you've got an appetite for shrimp, but don't want to do the cooking—just press the shrimp button!
That's right—foods have their own buttons on this thing. Want some steak? Steak button! How about Chicken? Fries? Maybe some bacon? Push their respective buttons and you're done. The end. Newbies, non-cooks rejoice!
Become a Cook Without Cooking
You've got quite the appetite, but don't have the time or know-how to cook your most desired dish.
Thankfully, you won't need much time or cooking know-how with an air fryer. In fact, you won't need much of anything—apart from fingers for button pushing—because air fryers do it all for you! Baking? Roasting? Grilling? Air frying? You and your tummy are all set.
So, what are you waiting for? Choose an air fryer and satisfy your food cravings instantly!