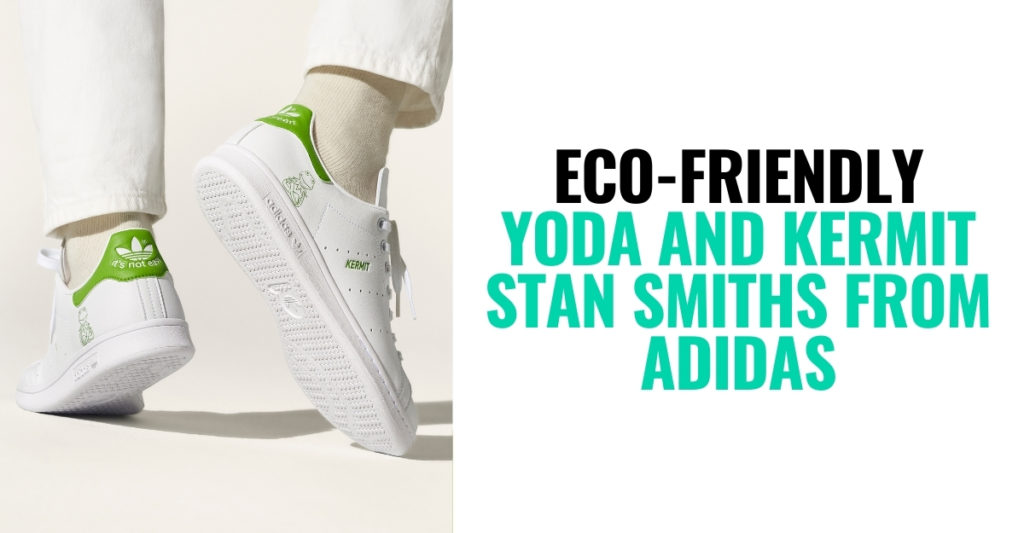 "There is no try" with Adidas — they just do when it comes to sustainability. Yep, sportswear giant Adidas has been crushing the eco-friendly market lately and just debuted some fresh sustainable Stan Smiths that feature Disney characters, Yoda and Kermit being the two latest editions.
Adidas and the Stan Smith, Forever Collection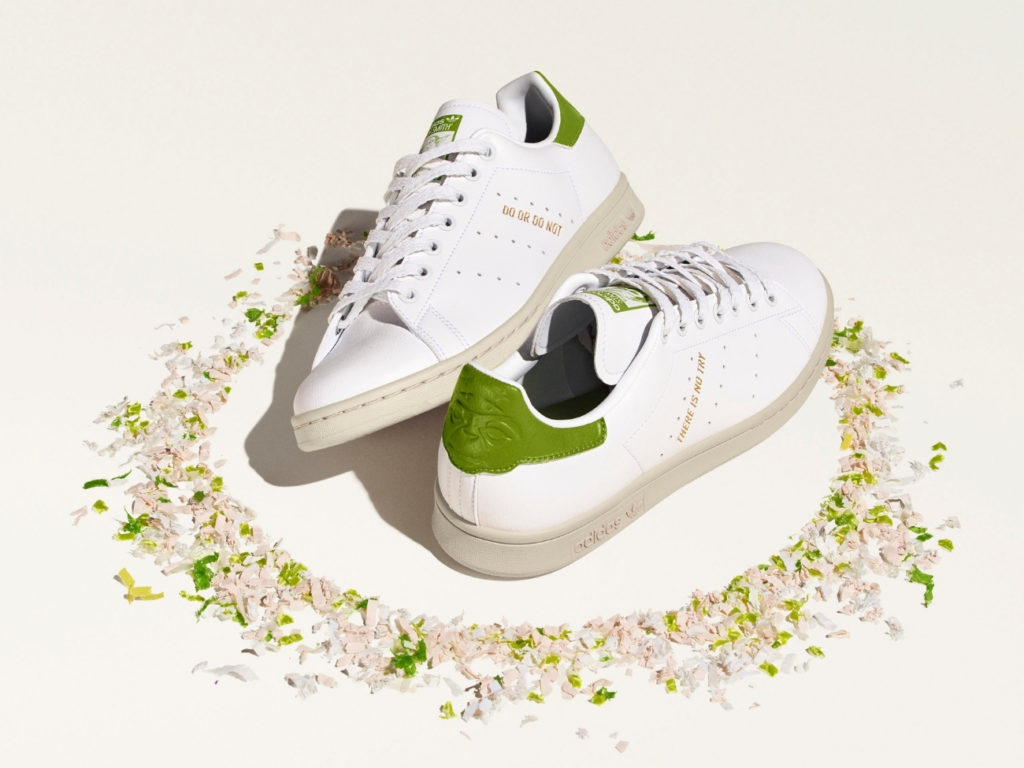 Adidas couldn't have come out with their newest eco-friendly shoes at a more opportune moment. Seeing that #MayThe4thBeWithYou and #RevengeOfThe5th recently passed, and I just finished re-watching the entire Star Wars series, I'm most excited about their sustainable Yoda-themed Stan Smiths. This revamped version of the iconic sneaker features a cleverly placed Yoda on the collar of the sneaker, Star Wars graphics on the tongue, and features famous quotes from the character like "there is no try" and "do or not do."
But I get it: Star Wars isn't everyone's favorite. (Especially since the last couple of episodes were a bit… controversial.) I'm honestly just waiting until they come out with a Grogu version. And even though they have a baby Groot Stan Smith, I'm definitely more on team baby Yoda.
Anyway, the good news is Adidas has been collaborating with Disney, Marvel, and Pixar for quite some time now. This means they have many other other green protagonist options if this Jedi Master isn't your cup of tea. Take the Kermit the Frog Stan Smith for example, their other newest addition to their sustainable collection. It's called "It's Not Easy Being Green," which is quite poetic. Even though I'm less excited by it than the Yoda shoe, my opinion of it pales in comparison to how excited I am to see Adidas leading the movement in their niche by improving their eco-footprint.
These two shoes are part of a bigger sustainable collection they named the Stan Smith, Forever collection, which has two "chapters." The first chapter is a line of three Earth-inspired Stan Smith designs and features very Earth-like elements like colorful hand-drawn plants, planets, or flowers. The second chapter is the Stan Smiths adorned with all of our favorite green childhood characters like Mike Wazowski from Monsters, Inc., Rex from Toy Story, Tinkerbell from Peter Pan, and the Hulk from Marvel.
Adidas's Sustainability Commitment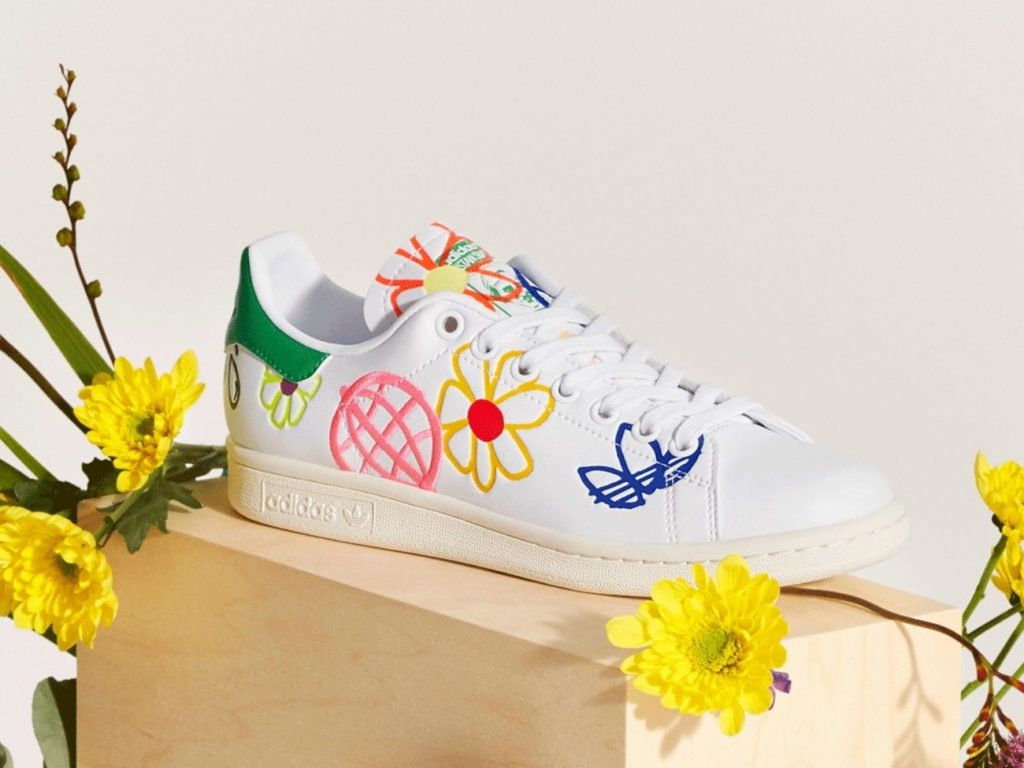 So what makes this Stan Smith, Forever collection so sustainable? They use what they call PRIMEGREEN — a high-performance, plastic-free fabric that uses at least 50% recycled materials.
I admittedly had no idea this wasn't Adidas' first dabble in sustainability. The company has been working towards more sustainable production since 2018 doing things like ditching fur and responsibly sourcing cotton. They've also recently partnered up with biotech company Bolt Threads™ to create a Stan Smith made of a material called Mylo™ — a material made of mushrooms.
Plus, remember the PRIMEGREEN material we just talked about? Adidas also uses another eco-friendly material called PRIMEBLUE, which is another high-performance recycled material made with Parley Ocean Plastic, which is a fabric made from plastic waste from the ocean. On a side note, I love how easy they made it to remember that PRIMEGREEN is made from stuff from the Earth and PRIMEBLUE is made with stuff from the sea. But getting back to the point, adidas has already incorporated PRIMEBLUE in some of the top-performing products like their Ultraboost 20 and professional sports uniform while PRIMEGREEN has started rolling out this year. I know, it's crazy cool!
The Stan Smith, Forever collection is also part of their new initiative called End Plastic Waste, where they pledged to ditch plastic by 2024 and use 100% recycled polyester instead. James Carnes, Adidas VP for brand strategy said this about the pledge: "We believe that through sport we have the power to change lives, and we are dedicated to creating that change. Since 1998, we've been developing and introducing innovations to END PLASTIC WASTE. Our commitment to eliminate the use of virgin polyester in our products by 2024 helps us get one step closer to being a more circular company."
Final Thoughts About Adidas and their Sustainable Impact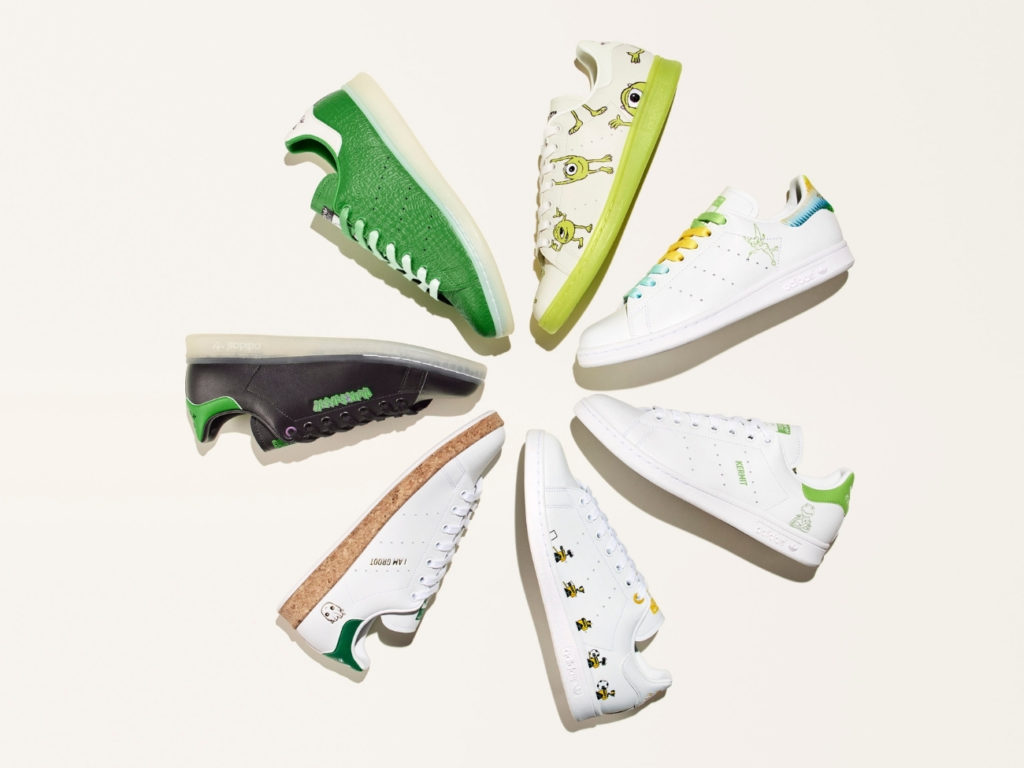 Did you know that in the U.S., daily plastic waste per person is estimated to be 0.75 pounds? Maybe that doesn't sound like a lot, but when you learn that 2,431 tonnes of plastic waste from the U.S. goes into our oceans and the U.S. generates 37.83 tonnes of plastic waste in total, then it definitely becomes a frightening thought.
Adidas has no doubt been a huge contributor to this plastic waste, which is why it's great to see them trying to reverse the damage they've had on our world. Obviously, Adidas isn't the only one to blame here, but packaging and textiles are the leading industries for most plastic production so… They're partially to blame. (By the way, what shoes did they wear to get into the two winning categories?)
All jokes aside, the fact of the matter is that we can all try to keep supporting eco-friendly small businesses, but these bigger and more accessible companies need to do something quick too. They need to be held responsible to change because they're the ones with the biggest impact — negative and positive.
Have you purchased any of Adidas's PRIMEGREEN or PRIMEBLUE products? Are you also holding out until Adidas adds an eco-friendly Grogu Stan Smith to their collection? Let me know all your thoughts below in the comments.