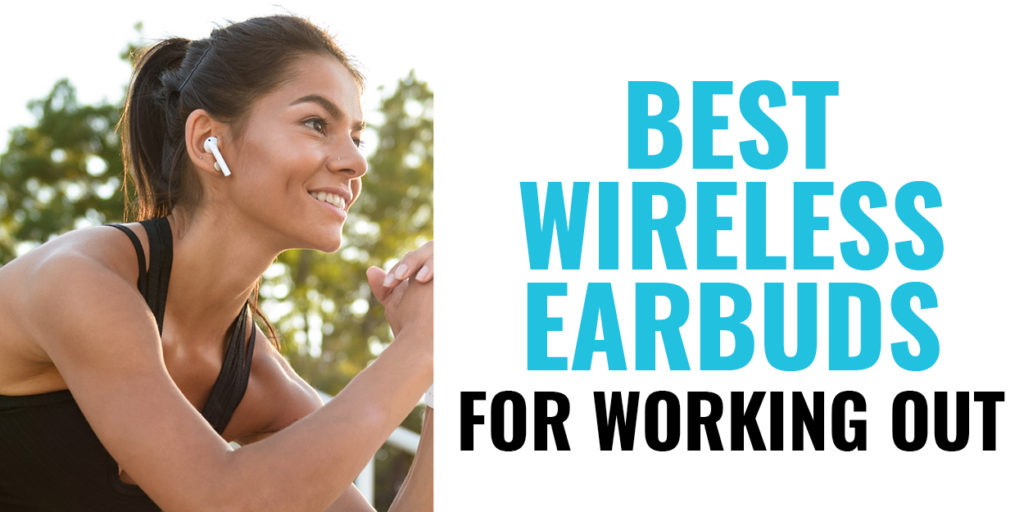 Is there a worse feeling than heading to the gym and realizing you forgot your headphones or forgot to charge them? When something like that can literally make or break any days work out, it's important to make sure you've got the right tools to set yourself up for a good gym session. In this list, we will be going over the best wireless earbuds for working out.
1. Beats Powerbeats Pro
The Powerbeats Pro wireless earbuds combine many features that make Apple's AirPods so great along with Beats powerful tech. Beats incorporated Apple's H1 Bluetooth chip and ambient noise filtration for call quality if you're in a noisy environment. With ear clips for a secured fit, you won't have to worry about them falling out when you head out for a run. They come with four sets of ear tips to help you find a secure fit.
Pros:
Excellent sound quality
Call quality with active ambient noise filtration feature
Physical playback and volume control buttons
Splash-resistant
Cons:
Price
Large charging case, not pocket friendly
For more details, check out this Beats Powerbeats Pro In-Depth Review.
2. Sony WF-SP800N
The Sony WF-1000XM3 was widely considered one of the best noise-canceling wireless earbuds in 2019. However, it lacked water-resistance making it a risky choice for any athletic activities. In the new WF-SP800N, Sony addressed this issue by adding splashproof and dustproof resistance. The WF-SP800N gives you 13 hours of battery life when the noise-canceling mode is turned off. If you're like me and use your earbuds all day for work before heading to the gym, the WF-SP800N will keep you from running out of juice throughout the day. If you happen to leave the noise-canceling mode on all day and run out of battery when you get to the gym, just put them into the ultra-fast charging case. A 10-minute charge gives you up to 60 minutes of battery life so you never have to hit the gym without music.
Pros:
Excellent sound quality and bass
Up to 13-hour battery life
Ultra-fast charging case
Water and dust-resistant
Cons:
The microphone's outside noise-canceling feature is not as effective as competitors
3. Jabra Elite 75t
With a secure fit and excellent sound quality including stronger bass than the Apple AirPods Pro, the Elite 75t's are the best all-around earbuds. The Elite 75t has plenty of features I didn't know I needed. The Jabra earbuds contain a HearThru feature, accessible through the app, to let in ambient noise. If you run on a busy trail as I do, this is especially useful for hearing bikers trying to pass you by. They also offer water and dust resistance for long-lasting durability.
Pros:
Excellent sound quality
Tighter bass than Apple AirPods Pro
7.5-hour Battery Life
Splash resistant
Cons:
Subpar noise-canceling on phone calls in loud environments
4. Apple AirPods Pro
For the Apple enthusiasts who don't want a separate pair of earbuds dedicated to working out, the Apple AirPods Pro can handle all of your headphone needs thanks to the incredible call quality. Some people still prefer the standard AirPods in comparison to the Pro. The standard AirPods don't offer adjustable ear tips so if the standard size doesn't fit, you're out of luck. The standard AirPods also don't offer any form of water-resistance, making it a risky choice for working out because there will likely be an abundance of moisture and sweat. Additionally, the AirPods Pro also gives a much more secure fit than the standard version. The AirPods Pro still has its fair share of pros. See what I did there? Such as the Transparency mode that lets in ambient noise.
Pros:
Splash-resistant
Call quality with active ambient noise filtration feature
Ability to allow outside noise leak in
Cons:
Price
No volume adjustment capability on buds
For more details, check out this Apple Airpods Pro In-Depth Review.
5. Jaybird Vista
The Jaybird Vista offers the most secure fit of any earbuds mentioned on this list. They are fully waterproof and can be submerged in shallow water for up to 30 minutes. Even though the Jaybird Vista can endure triathlon training sessions, it is important to note that they don't have any ambient noise features. You might need to turn down the volume to hear what goes on in the outside world
Pros:
Secure and comfortable fit
Lightweight
Fully waterproof
Physical playback and volume control buttons
Cons:
No ambient noise filtration feature for call quality
No feature to let in outside noise
In Conclusion, TLDR
The Beats Powerbeats Pro is an excellent pair of wireless earbuds that feature ear clips for a secure fit. Sony's WF-SP800N wireless earbuds offer a fantastic battery life and ultra-fast charging case. The Jabra Elite 75t provides excellent sound quality but lacks background noise cancelling features that other competitors provide for call quality. The Apple AirPods Pro offers a much more secure fit from the standard version which does not perfectly fit many people. Jaybird's Vista offers the most secure pair of wireless earbuds on this list accompanied by fully waterproof capabilities.