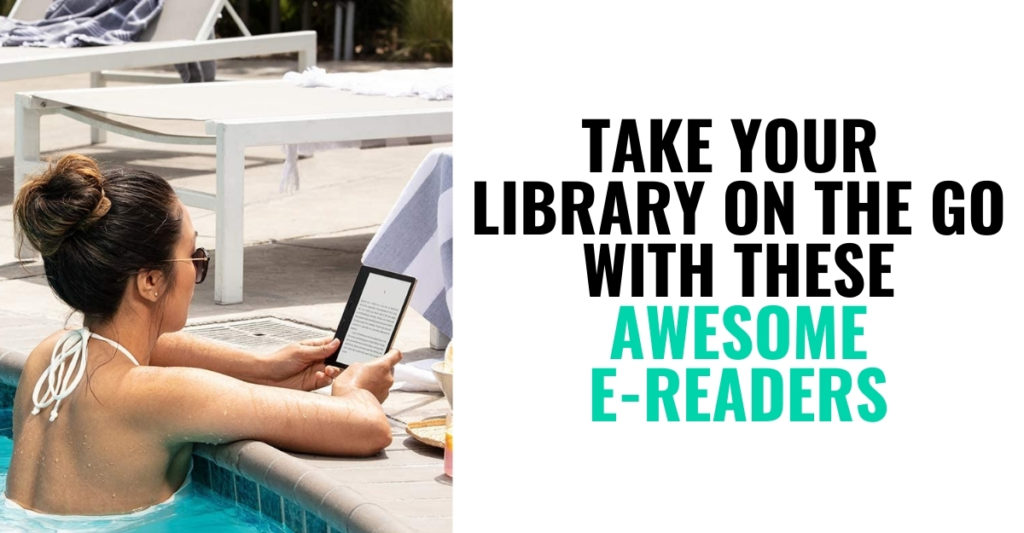 Face it: your bookshelf isn't going anywhere.
That doesn't sound pressing, but maybe you're an avid reader who marvels at the idea of 24/7 access to all your books from anywhere in the world, the freedom to browse your own personal library no matter where you are, be it at home or overseas.
Holding an e-reader may not be the same as holding a physical book, and while physical books look better in coffee selfies, rest assured that what e-readers lack in looks, they make up for in versatility, space, and portability, allowing you to carry thousands—literally, thousands—of books all at once. Simply put, you've got an entire labyrinth of books, let alone a single bookshelf. How's that for size?
The following e-readers make reading both fun and efficient!
Kindle Oasis (2019)
A device for those who want to take their reading to the extreme. Being waterproof, the Kindle Oasis keeps you reading on that beach hammock and sipping the margarita, without worrying about incoming tides! So, go ahead—take a cruise, relax by the pool, or even slip into the hot tub with the Kindle Oasis, as it won't dampen your reading session.
"But screens hurt my eyes!" you say. That's not a problem when using the Oasis, since it uses an e-ink display, which is remarkably easy on the eyes—even in the dark, thanks to the Oasis's warm amber light feature. Moreover, with a 300ppi resolution, the Oasis gives you a near-perfect replication of a physical book. In other words, the Oasis's display is so crisp you might actually forget that you're not reading a physical page!
Another neat thing about the Oasis is that it doesn't care whether you're right or left-handed—it'll accommodate you either way (lefties rejoice!). Thanks to its page-turning buttons, you can hold it with your right hand or your left, and the Oasis will adjust its own interface to accommodate the angle in which you hold it, all while its buttons' respective functions remain the same, regardless of positioning. Try doing that with a physical book.
The Kindle Oasis is a powerhouse; it has a battery life of up to 6 weeks, depending on use. Give it one full charge and it'll last through your tropical getaway!
Kindle Paperwhite
Want a worthy, half-priced alternative to the Kindle Oasis? The Kindle Paperwhite isn't quite as versatile as its successor, but it's still got a couple of things to spice up your reading: price point and simplicity. If you don't mind giving up some bells and whistles, then the Kindle Paperwhite excels, as it sacrifices only a few Oasis features yet maintains similar performance.
Don't worry—it still allows for hot tubs and poolside cocktails, because it maintains waterproofing; it'll be merciful on your precious eyes too, since it keeps the e-ink display (and even a warm light for night reading). Overall, you're still getting the meat and potatoes of its big brother Oasis—albeit with a tad more bulk.
"So, what's the catch for spending less?" you ask. Well, nothing much if you don't care for ambidextrous use. The most notable difference separating the Paperwhite from the Oasis is its lack of page-turning buttons, so you won't be reading one-handedly (assuming you don't have thumbs large enough to reach all areas of its screen—a quirk the Oasis solves with buttons).
Though not the latest and greatest, the Kindle Paperwhite is nevertheless an excellent substitute for you readers not interested in the flashy decor of its successor.
Kindle (2019)
One of the most budget-friendly e-readers on the market, the basic Kindle is an excellent route for entry-level users not yet comfortable with the idea of a portable library. It's a barebones device, but it does the job.
The Kindle's message to you is simple: read. No waterproofing, no buttons, no warm light, and no fancy resolution—just READ. This isn't to say you'll be missing out due to lack of features; on the contrary, I'd argue that the basic Kindle actually makes for more authentic reading, since you wouldn't read a physical book in the water or in pitch darkness. That said, there's a case to be made that the Kindle's simplicity makes the device close (perhaps closer than any other e-reader) to being a physical book!
It's not exactly a powerhouse, but the Kindle is easy to learn, simple to use, and respectful of your budget—ideal traits for e-reader newcomers. If all you care for is reading, then the Kindle will suffice.
Kobo Clara HD
Want to break up with the Kindle family? Then Kobo has got you. These devices have proven to be worthy Kindle rivals, key among them being the Kobo Clara HD.
One of the first things you'll notice about the Clara HD is how easy it is to navigate. It's got one of the most user-friendly interfaces ever seen in an e-reader, keeping its menus neat, organized, and simple.
Another notable thing about the Kobo Clara HD is that it absolutely excels with customization. There are settings to adjust texts, fonts, and line spacing; moreover, you won't be locked to the Kindle store when downloading books, since the Clara HD supports various file formats (Kindle is capable of this too, though with a lot more hoops to jump through).
Overall, the Kobo Clara HD is a great all-around device, keeping some key features from its competitors but also maintaining its own unique traits and allowing for great customization.
Kobo Libra H2O
A not-so-subtle one-up to the Kindle Oasis, the Kobo Libra H2O improves over its Clara HD predecessor. Its thicker edge curves naturally into your hand, making it a tad easier fit than the Kindle Oasis (which tends to be slippery, given its flatter presentation).
The Kobo Libra H2O adopts the friendly user interface from the Clara HD; it'll give you the same levels of customization, and browsing its menus is still a breeze—ideal for you bookworms who value simplicity and organization.
The Libra H2O will also take you back to the pool and ease your eyes, as it retains the popular waterproofing and warm light features of its competitors. Additionally, it has page-turning buttons, which means you can hold it with one hand—be it your right or left.
For those seeking the premium reading experience of the Oasis at a lighter price, the Kobo H2O checks all the boxes.
Will You Be Taking Your Library on the Go?
E-readers have forever changed the way we read our books, quite literally carrying entire libraries with them as they evolve. Gone are the days of overly-stuffed and brittle bookshelves collecting dust and hindering your reading capacity.
Should you prioritize reading over extravagance, the basic Kindle more than excels, whereas those seeking a middle ground are best served with the Kindle Paperwhite and Kobo Clara HD. On the other hand, if you're in the market for only the finest of e-readers, the Kindle Oasis and the Kobo Libra H2O offer unique experiences that keep readers reading.
Well, what are you waiting for? It's time to grab yourself an e-reader and read wherever you go!