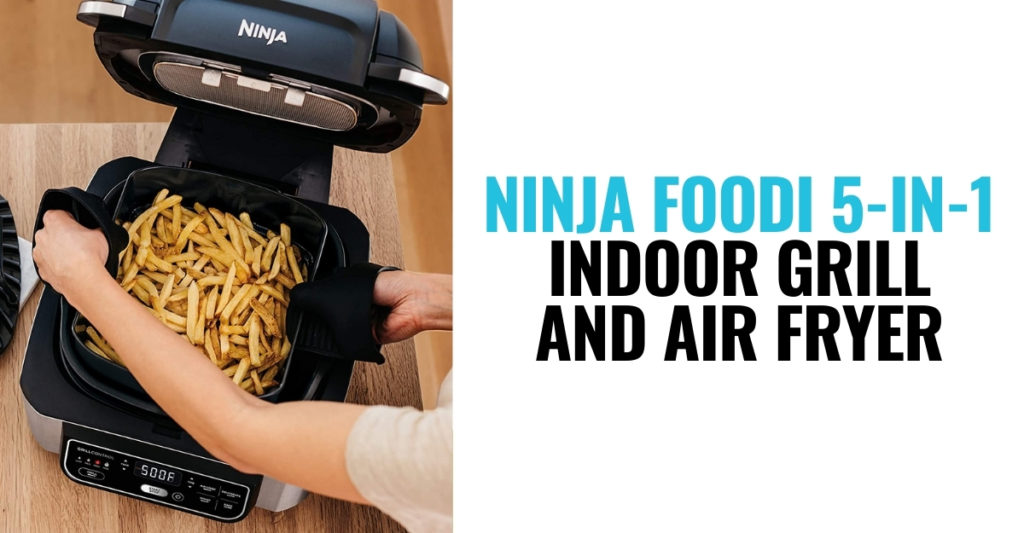 I take it you've been looking into the best air fryers of 2021.
If so, lend me your ears (or eyes, rather), because what follows is a look at one of the best air fryers—and grills—of the entire decade: The Ninja Foodi 5-in-1 Indoor Grill and Air Fryer.
This here bad boy goes beyond a simple air fryer. If you want a true boss of the kitchen, a personal chef that does just about anything you want it to, then you'll definitely want to give Ninja a shot!
Here's what we'll cover in looking at the Ninja Foodi 5-in-1 Indoor Grill and Air Fryer:
Cooking Functions
Interface
Safety Features
Included Accessories & Attachments
Cooking Functions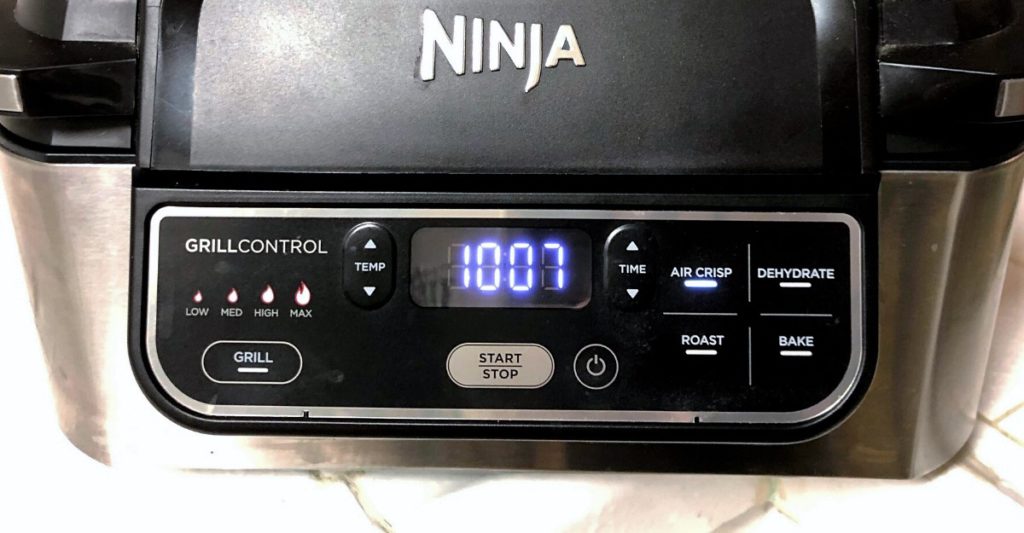 I'll state it outright: I'm totally overwhelmed by the Ninja Foodi's vast array of uses—but that's a good thing because I love having options almost as much as I love food!
So, what exactly can you do with the Ninja Foodi 5-in-1 when it comes to food? Well, lots. To be specific:
Air Crisp— On day 1, I loaded the Ninja with French fries (no shame!), pressed the air crisp button—that would be the button that says "air crisp," in case you're lost—and not 15 minutes later comes a steamy batch of fries, crisp to the core—no fatty oil required!
Sure, the taste is just a tad different from traditional deep fry, but hey—it's your health we're talking about, and nothing beats enjoying fatty foods without the fat!
Grill— This is Murrica', and that's why I feel right at home using the Ninja Foodi's grill for burgers; no propane needed, as this fella runs on all-electric. Basically, I've got a fully functional, compact grill sitting on my countertop.
You read that right—the darn thing works as a freaking grill. "But does it actually work?" You might ask. Well, yes!
In addition to burgers, I used the Ninja Foodi's grill for hotdogs, steak, chicken breast, and bacon-wrapped mushrooms and asparagus. Bottom line: this grill grills!
Roast— I'll be blunt: I literally dropped a 3-pound whole chicken into the Ninja Foodi 5-in-1, which is fine because it's totally capable of handling a whole chicken!
So, once the chicken went into the preheated Ninja, cooking was simply a matter of hitting roast and waiting an hour. Easy-peasy! (And before you ask, yes—you still have to flip some meals midway through cooking, just as you would with an oven.)
And if you're willing to do extra pre-cook prep for extra flavor, like season or stuff your meal with additional herbs, vegetables, and spices, then go right ahead—the Ninja allows for it!
Bake— The Ninja Foodi 5-in-1 does an excellent job accommodating my sweet tooth; I can, after all, bake a cake with this thing—and I'm nowhere near being an actual baker!
But that's not all—users have successfully baked cookies, brownies, and cupcakes with the Ninja Foodi. So, if you've got the hots for baked sweets, this machine won't disappoint!
Dehydrate— Having never actually dehydrated food before, I was curious, so I opened the Ninja and in went some banana slices for the next 6 and a half hours (a bit long of a wait time, sure, but dehydrating food is generally a long process).
In the end, I'd say time well spent; I was treated to dried banana chips—perfect for the munchies. And If you've just GOTTA sprinkle on some sugar or cinnamon, then go ahead and indulge on that too!
Interface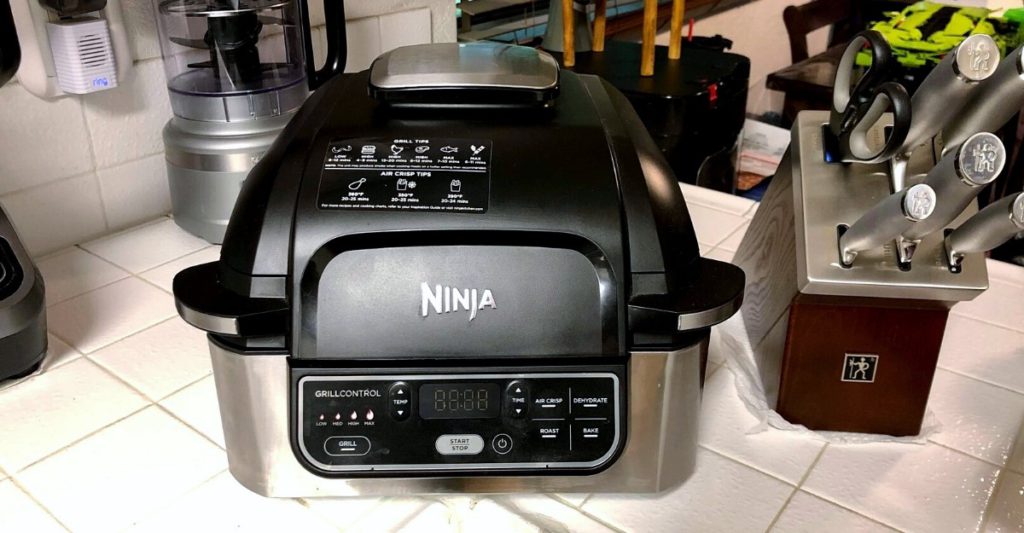 While the Ninja Foodi 5-in-1 appears to have a complicated interface (seeing all those buttons and lights can be a bit daunting), it's actually pretty straightforward—so much so that your anti-tech elders who can't use smartphones can totally use the Ninja!
Unit Control— It's simple, really. All those scary-looking buttons are only there for a few things: selecting a cooking method (air crisp, dehydrate, roast, grill, or bake), adjusting temperature, and setting cooking duration; it's all under YOUR control, not the other way around!
And all those fancy-looking lights and numbers on the Ninja? They simply let you know the cooking temperature as well as the cooking time remaining—nothing complicated to hinder your appetite!
Safety Features
A little safety and security don't hurt, and the Ninja Foodi 5-in-1 has a couple of features to make cooking just a tad more reassuring.
Auto Shutoff— You're naturally forgetful, and had you been using an oven, you might've forgotten to turn it off—bad! Thankfully, you're using the Ninja Foodi 5-in-1, so you're covered.
Say you're just so busy downing those air-crisped French fries that you forget to shut off the Ninja after cooking. You're in luck, because the Ninja doesn't care; after 10 minutes of inactivity, it shuts itself off, so you can eat worry-free!
Pause Cooking— Forgot to add an ingredient? Need to check on how well your meal's cookin'? Want to open the Ninja's hood mid-cook just because you can? Well then go ahead, because you can.
As soon as that hood opens, the Ninja pauses the cooking process. This means that you can open the Ninja at any time during cooking, so no need to worry about damaging or disrupting it if you need to toss in a last-minute ingredient, because the Ninja goes right back to where it left off once you close it.
Included Accessories & Attachments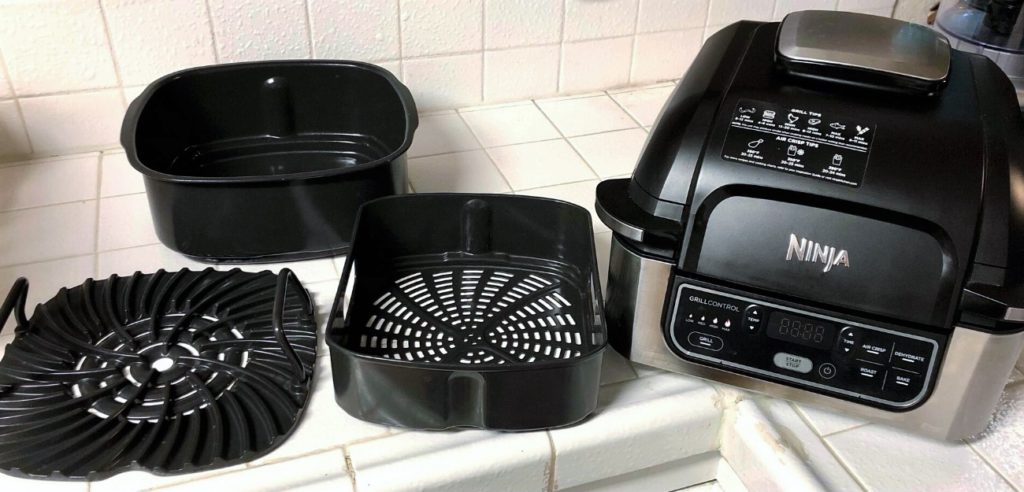 These are the parts that'll come with your Ninja Foodi 5-in-1—you know, all the stuff that makes the Ninja awesome in the first place.
Grill Grate— Gives your Ninja the power to grill (what gave that away?). Those godly burgers aren't happening without this!
Crisper Basket— This basket contains the oil-free magic that'll make your food crispy without deep frying. You'll be using it often.
Cooking Pot— Remember that roasted 3-pound whole chicken? Well, you kinda have to fit it into the cooking pot before it goes into the Ninja. (NOTE: you'll actually need the cooking pot EVERY TIME you use the Ninja, since this is what secures all the food.)
Cleaning Brush— Even a beast like the Ninja Foodi 5-in-1 needs love here and there. The machine gets a bit messy cooking your meals; why not repay it with a cleaning?
In Conclusion, TLDR
In the end, you want to be as close to a magic oven as you can get; with the push of a button, you want to be able to grill, air crisp, roast, dehydrate, and bake, whether you're a professional cook or a total newbie with food. The Ninja Foodi 5-in-1 Indoor Grill and Air Fryer is the one machine that allows for all of that.
So, if you like the idea of future-proofing your cooking sessions with a device that essentially works as your personal chef, if you want the tastiest meals on a whim, then you owe it to yourself to pick up the Ninja Foodi 5-in-1 Indoor Grill and Air Fryer.
Got an appetite brewing? Your Ninja is only a click away!