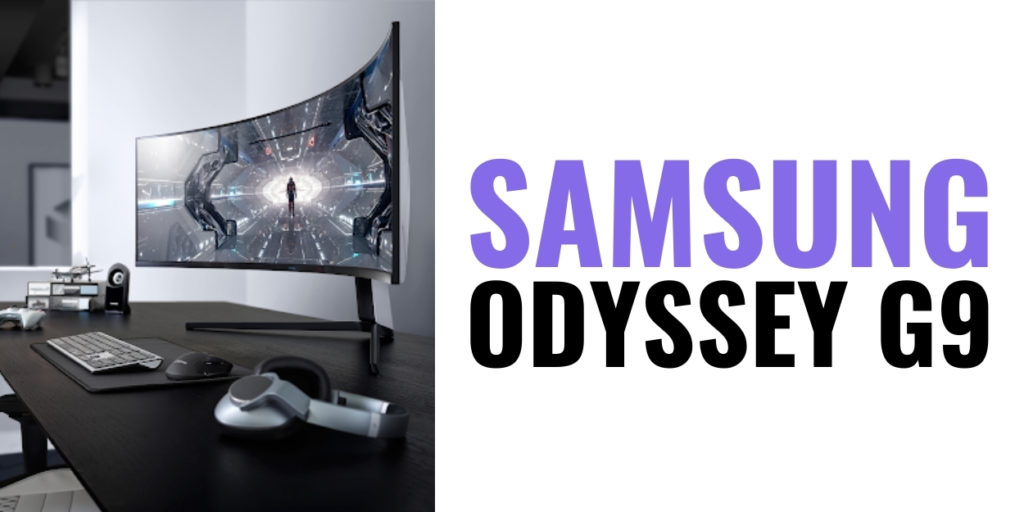 This absolute behemoth of a monitor was my absolute "dumb" impulse buy of the year and I love it. However, the Samsung Odyssey G9 has been riddled with immense production issues ever since it entered the market so if you're wondering if it's really worth it for you to get this monitor, read on ahead! The current price of this monitor is ~$1,249.99 (Out of stock on Amazon at time of writing so check often).
How I Ended Up Getting the Samsung Odyssey G9 Monitor
Back on Amazon Prime Day, I had jumped on the deal for the Alienware AW3420DW out of impulse. I had been using the Asus PG279Q for a while and loved everything about it. Most of all, what I loved about the PG279Q is the image quality and the 144hz refresh rate (older model, the newer models now go up to 165hz). However, upgrading to the Alienware AW3420DW was not what I thought it would be. The colors felt washed out (inferior contrast) and the text felt harder to read coming from the PG279Q. However if you guys have never experienced a TN panel with a good refresh rate, the AW3520DW monitor may be the right one for you! After using the Alienware monitor for several days for both work and gaming, I started looking around for other curved monitors. I couldn't get over the washed out colors (even after playing around and tweaking the settings).
The Asus ROG Swift PG35VQ looks good…but it's a whopping $2500…way out of my budget. Then I saw the Samsung Odyssey G9. I remember watching Linus's review video on the G9 which is more technical than I want to get into in this article. Initially, I wasn't going to buy this monitor since it's an absolutely ridiculous monitor. I mean look at how wide the thing is! The thing takes up so much space! The more I thought about it and the more I looked at it…curiosity got the best of me. I needed to know what this ridiculous monitor was like. For an idea of how massive this thing is…
Initial Impressions of the Odyssey G9
The first several days, I felt some eye strain while my eyes were adjusting to this monitor (lowering the brightness helps a lot). But, this monitor's image quality was exactly what I was looking for. The colors and contrast on the screen is absolutely stunning. I did notice a bit of black smearing which is common in VA panels but it is pretty acceptable. I also found myself moving my head a ton especially taking zoom meetings and moving things around on the screen which took a bit of time to get used to as well. Overall, this monitor gave me a great first impression!
How is the Samsung Odyssey G9 For Gaming?
The burning question for most of you people considering to buy this monitor. This monitor is absolutely perfect for games that display beautiful scenery like Abzu, Assassin's Creed Valhalla, Red Dead Redemption, Rocket League, and Breath of the Wild. However, this monitor comes with a fair amount of issues since many games aren't built to properly run on a 5120×1440 monitor (32:9). There are also some issues regarding the pre-installed firmware so you may need to update the firmware to resolve some of the issues. Here is the latest version 1008.1 as of the time of this article.
Adaptive Sync and the 240hz Refresh Rate
I'm not 100% sure how other people have got the Adaptive Sync to work properly and consistently but it's an absolute crap shoot for me. Half of the games I boot up work properly. The other half outputs a black screen which forces me to power cycle the monitor to get anything to display again. The 240 hz refresh rate is amazing but I encounter similar issues but at a much lower rate. For some reason, the Samsung Odyssey G9 at 240hz refresh rate caused my HTC VIVE Pro headset to show a black screen after several seconds. It took me a while to figure out that it was the refresh rate causing the issue after tweaking around various settings.
If you are wondering how a 240hz refresh rate compares to a 144hz, there are definitely diminishing returns. I don't notice the 240hz refresh rate too much coming from 144hz while gaming, but just moving dragging and moving around windows feels extremely silky smooth. For now, I have adaptive sync turned off and am using vertical sync enabled by games at 240hz. Supposedly the updated firmware may have solved some of these issues.
The G9 in FPS Games
Playing games like Valorant and Halo on such a wide screen made me a little nauseated from motion sickness due to the wide field of view and rapid movement. If you easily get motion sick, I would not recommend playing at the full resolution of this monitor in FPS games(although you technically have a wider field of view so you have some sort of advantage to see people on the sides if you can move your eyes a far distance). I ended up searching for solutions to get all of my FPS games to be displayed at 2560x1440p instead. Valorant specifically caused me some headache to get to work properly. In case you guys need a solution for this read below.
How to get Valorant (and other FPS Games) to Work Properly using the Samsung Odyssey G9
If you're looking to display FPS games in 2560x1440p, follow along with these instructions. I can only give instructions for NVIDIA Graphics Cards so you may need to search for another solution if you have an AMD GPU. This is not a completely perfect solution but it is the only method I could find that works reliably for me. Essentially you'll be playing the game in borderless window mode with your desktop on the sides in place of the usual black bars. I could not get the black bars on the sides to work reliably. However, Valorant has been causing issues especially with displaying images in the incorrect aspect ratio. I spent a great deal of time trying to figure this out…
To start, here are my Samsung Odyssey G9 screen settings:
Adjustments to the NVIDIA Control Panel (For most games, this is to get the black bars on the sides – Did not work for me in Valorant):
Open up NVIDIA Control Panel
Under "Display", Click "Adjust desktop size and position"
Change the scaling mode to "Aspect Ratio"
Change "Perform scaling on:" to "GPU"
Check the box for "Override the scaling mode set by games and programs"
Valorant Settings:
Change settings to Borderless Window
Change the custom resolution to 2560×1440
To eliminate screen tear, turn on vertical sync (adaptive sync did not work properly for me but you can test it out yourself)
You may need to set the resolution to 2560×1400 twice. For some reason, every time I click "Apply", it cycles between 2 ways it displays the selected resolution.
Note that you may need to move your windows taskbar to be displayed on the left or right side of the screen instead of making it a bottom taskbar. Otherwise, you may end up clicking the taskbar taking you out of the game.
Samsung Odyssey G9 Production Issues
Initially when the G9 was released, there were a slew of issues. One of them even caused Samsung to halt all orders to perform additional quality checks back in July due to light bleed from the separation of the bezel on the monitor. Many users also reported to have flickering issues with NVIDIA cards. However, most of these production issues have been addressed. Make sure if you decide to get the Samsung Odyssey G9, you look for the production date via the serial number. If it was produced in July/August, you most likely are safe from these production issues. However, you may still need to update the firmware. The latest version at time of writing this article is 1008.1 which can be found here.
Using the G9 for Work
One of my absolute favorite features about this monitor is the PBP (Picture By Picture)! The Samsung Odyssey G9 allows 2 DisplayPort inputs…and you can use both inputs displayed side by side on the monitor which is absolutely amazing. On one side of the screen, I have my work laptop displayed and on the other side, my desktop computer. Since I didn't want to use 2 sets of keyboards and mouses, I used a USB switch. The one I use is the UGREEN USB Switch Selector.
In Conclusion; TLDR
Despite all of the issues, I absolutely love this monitor and I'm not sure if I can ever go back to a regular monitor anymore. The first time I saw the landscape and beauty of Zelda: Breath of the Wild was…breathtaking! If you have the budget to pay the premium price for this massive monitor, I would suggest you try it out!
Pros
1000R Curve Monitor – Amazing for Gaming
Beautiful display with a massive wide FOV in games
49 inches
Up to 240Hz Display for silky smooth frame rates
Dual Inputs and display 2 inputs at the same time
Cons
VA Black Smearing (acceptable for me)
HDR Flickering
Issues getting to work:

Proper resolution display
Flickering
HTC Vive Doesn't Display properly sometimes
Monitor sometimes flickers on and off if you try to change resolutions in games

Takes huge amounts of desktop real estate
Disclaimer: All product prices listed are accurate at the time of writing and are subject to change.