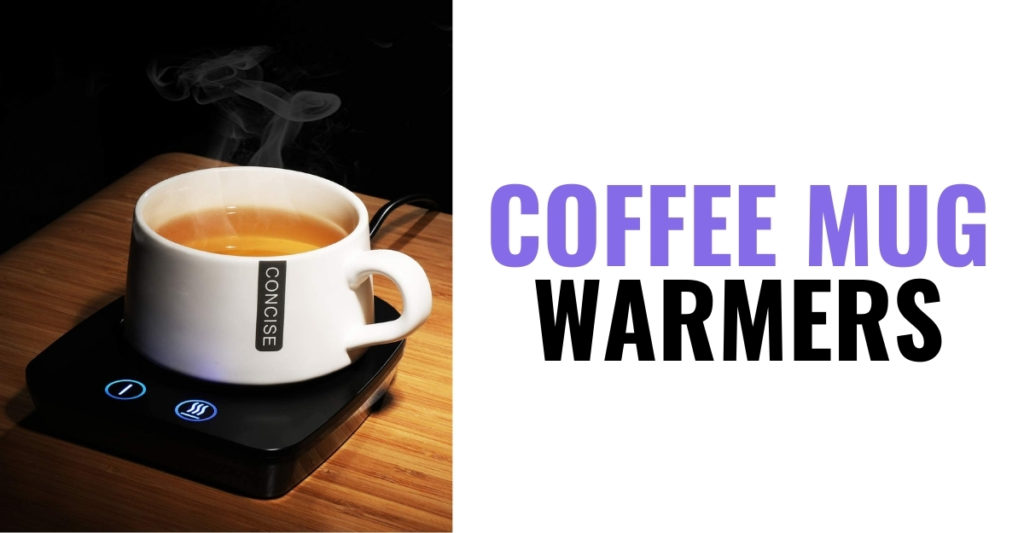 Be honest with me, how many times did you have to get up and microwave your coffee today? If you're anything like me (slow drinker, takes sips, forgets she even had coffee) you've probably tried burning your coffee just so it'd be piping hot for the next 3 hours while you sip. But no, heat doesn't work that way. And so you end up with lukewarm coffee. Tepid coffee. Room temperature coffee.
So let's fix this problem, shall we? What would your life look like if you could have the perfect temperature of coffee every time? Your house would be the best coffee shop in town, just sayin'. Let's java with some of the best coffee mug warmers on the market, shall we?
Ember SmartMug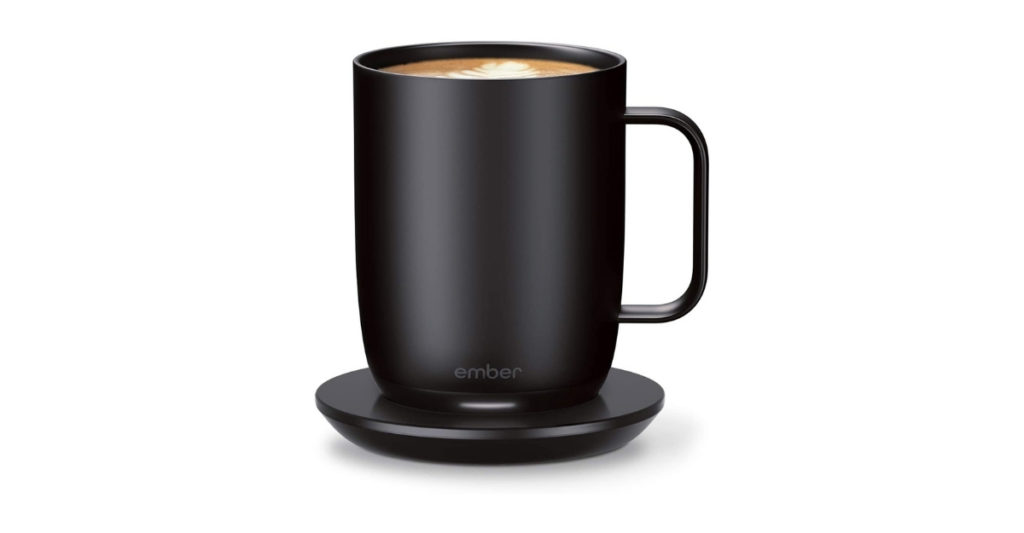 One of the most popular (and most stylish) mug warmers out there circa 2020. The Ember SmartMug does more than keep your coffee hot, it maintains the temperature of the coffee to your preference all day so you can work at ease without worrying about the rapidly cooling coffee on your desk. You can use the Ember app to control the mug temperature, personalize your mug, and even connect to Apple Health to see how much caffeine you've been guzzling.
What took me by surprise when I first held this one in my hands was the weight. Coming in at around 1 lb, it's twice the weight of your average mug. I guess that's where the Smart comes in. The Ember SmartMug has a battery life of 80 minutes (off the coaster) and features an auto sleep function that senses you're not using it. While it is slightly heavier than your average joe, the cup itself is well-balanced and thoughtfully designed.
Keeps temperatures hot from 120°F – 145°F (50°C – 62.5 °C).
Cauldryn Fyre Mobile 16 oz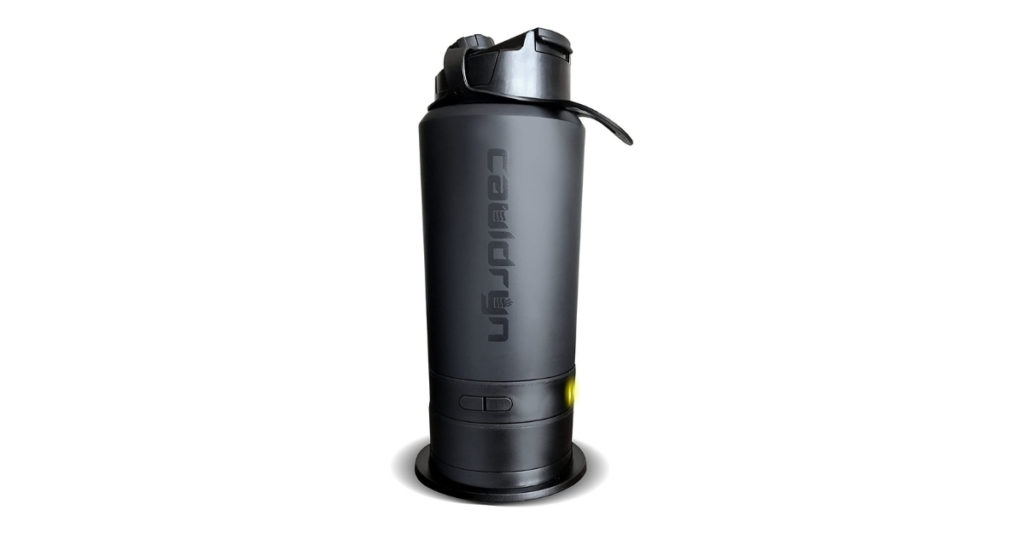 For you on-the-go types, the Cauldryn Fyre Mobile is your new best friend. It's durable, lightweight, and most importantly, HOT. With four different temperature settings (boil, brew, extra hot, hot), you can do a lot more with this one than drink coffee. You can brew coffee, boil water, and even rehydrate freeze-dried food. Its 10-hour battery life means you can charge it overnight, bring hot coffee to work, and still have hot coffee by the time you end your shift. Was this made for the apocalypse?
Just like the Ember, there's a plug-in charging base and a detachable mug. Meaning, if you're at work, you can charge the Fyre on its base and just as easily pick it up to drink. Without the charging base, the Fyre weighs about the same as the Ember SmartMug (but holds 2 oz more caffeine).
The temperature settings are perfect for those who like their coffee on the boiling side. Keeps temperatures hot from 125°F – 212°F (50°C – 100°C).
Mr. Coffee Mug Warmer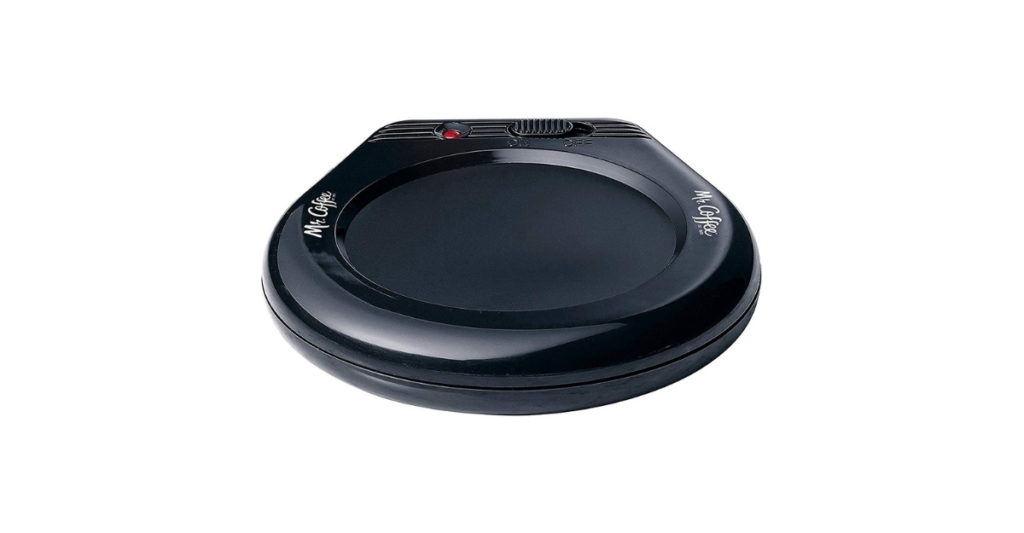 Okay, so you don't want to break the bank on a smart mug and you don't need that many personalizations or temperature settings. The Mr. Coffee Mug Warmer is for those who appreciate the simple things in life. Just flip a switch and warm coffee in minutes. Keep in mind, the temperature of your coffee can fluctuate depending on the material of your mug. I'd go with a flat-bottom mug with thin or insulating walls like this one. Getting a lid will also help with keeping the temperature of your coffee perfect.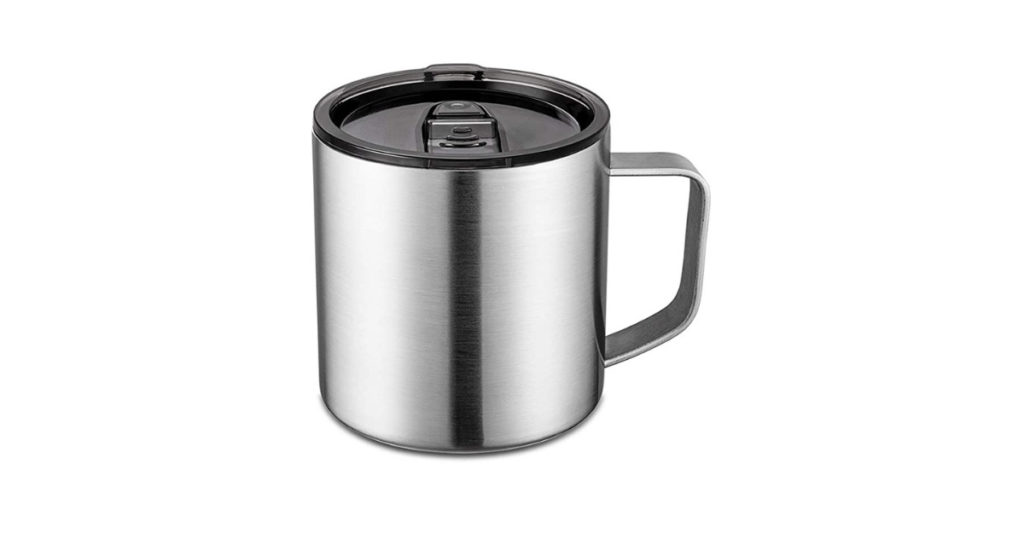 If you're looking for a simple solution to tepid coffee, this one's it!
VOBAGA Coffee Mug Warmer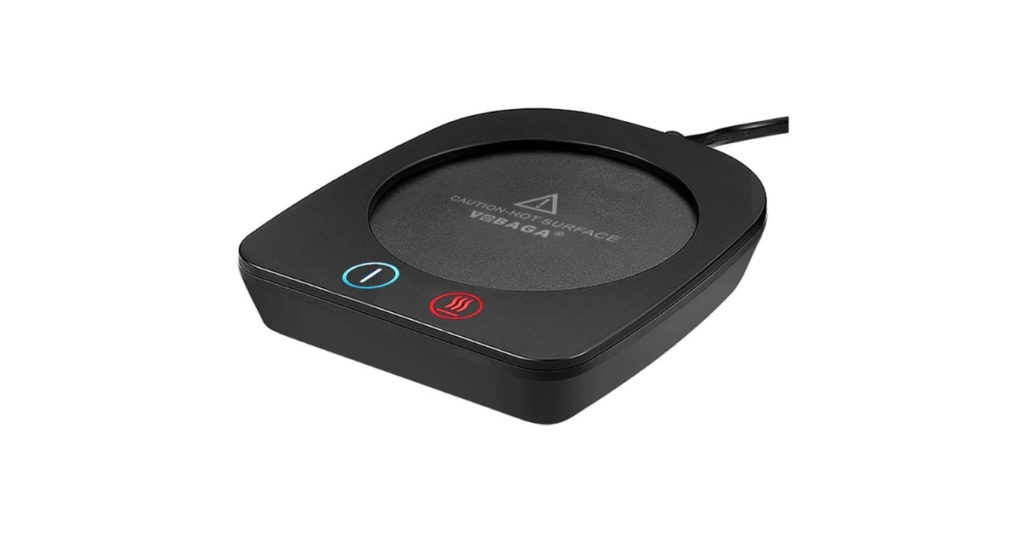 So you want it simple but you also like the auto sleep function of the Ember and you like having the option to choose different temperatures that don't scald your tongue? Picky much? Me too. That's why this VOBAGA Coffee Mug Warmer is on the list. Its simple design is easy enough to use but gets the job done. I just want my coffee hot! But if I don't use it, it needs to shut off and stop hiking up my energy bills (or accidentally burn me)! This one turns off automatically after 4 hours when not in use.
Another awesome aspect of this mug warmer is that the buttons are touch-enabled, meaning you don't have to struggle with sliding a switch like the Mr. Coffee warmer (and accidentally knock over your coffee mug). Just tap and the power is on!
It comes with 3 temperature settings: 104℉, 131℉, 149℉ / 40℃, 55℃, 65℃.
COSORI Pressure-Activated Mug Warmer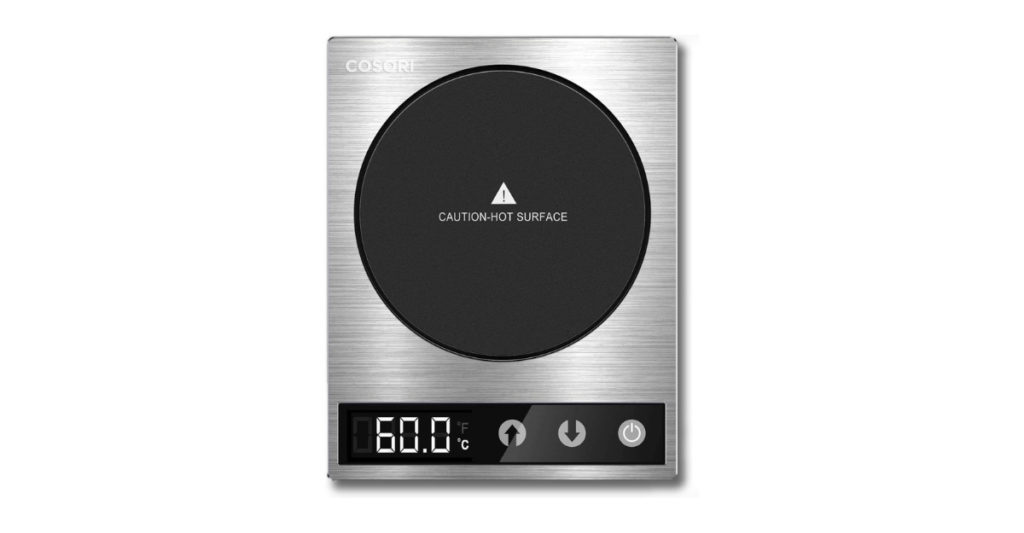 Yes to all the above..but I want my coffee HOT.
The COSORI Pressure-Activated Mug Warmer is the chosen one for you. Its temperature range is as versatile as the Cauldryn and its sleek look is easy to use. I like how it shows the surface temperature so you can tell what temperature is best for you.
A great safety feature of the warmer is the pressure-activated technology. It only starts warming if it senses a cup weighing over 10.4 oz, that means you can't accidentally turn it on and accidentally burn your hand if you graze over it. The cup turns off automatically after 8 hours or if a cup is removed from it for over 60 seconds so no need to worry about it over-circuiting, either.
Overall a solid, safe, and durable mug warmer to last you the whole day and more.
Temperature ranges from 77° – 194°F / 25°C – 90°C.
Ember SmartMug 14 oz.
Cauldryn Fyre Mobile 16 oz
Mr. Coffee Mug Warmer
VOBAGA Coffee Mug Warmer
COSORI Pressure-Activated Mug Warmer
Keeps hot for
80 minutes on battery, all day on charging coaster
10 hours on battery, all day on charging base
All day
All day,after 4 hours of unuse
All day,
After 8 hours of unuse,
Or if cup is lifted from warmer for more than 60 seconds
Temperature Range
120°F – 145°F
(48° – 62°C)
125° – 212°F
(50° – 100°C)
Varies, 140°F – 200°F(60° – 93°C)
104°, 131°, 149℉
(40°, 55°, 65℃)
77° – 194°F
(25° – 90°C)
Bonus Features
Mug personalization through the appConnects to app
LCD DisplayDesktop power coasterPairs with optional accessories like blender or vehicle base to charge in the car
N/A
N/A
LCD Display
In Conclusion, TLDR
We've done enough brewing over mug warmers. Now it's time to decide which one to use for the perfect cup of coffee every time. Which one javas with you? Is it the aesthetically pleasing and smart functions of the Ember SmartMug? I fell in love with it, too. If you're a rugged traveler, maybe the Cauldryn Fyre Mobile is your cup of tea. For the simple folks who just want it simple, I recommend the Mr. Coffee Mug Warmer. But if you want more safety features, both the VOBAGA and COSORI Mug Warmers are solid.